The AOI feature allows you to calculate the usable area for an area of interest (AOI) centered on points, lines, polygons, KMZ files, or searching around substations or powerlines. You can then add sites manually from the useable area.
The AOI feature will calculate usable area for your area of interest (AOI), whether that AOI is from a point, line or polygon drawn on the map, uploaded from a KMZ, or derived from a substation or powerline. Once the AOI usable area has been completed you can continue with configuring the Siting Criteria or hand pick sites using the Add site feature in the Project Sites panel. And, of course, you can also zoom-to and flash the usable area or download as a KML.*
This feature is located on the Siting Criteria panel shown below.
*Note: This feature is limited to evaluating 100,000 acres.
Calculate Usable Area Using the AOI
To use the AOI tool
Specify a center location by placing a point, line, polygon or uploading a kmz. You can also use a Pivvot feature such an existing electric substation(s) or an existing powerline.
Once your center location has been selected, define a proximity to location (or a buffer).
Next, select the calculate usable area button.
While usable area is being calculated the button will look like the screenshot below.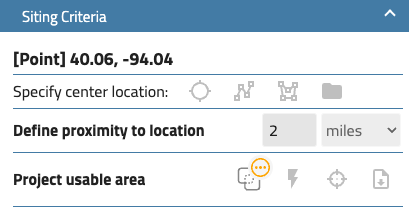 5. When usable area is finished calculating, a green check will appear and all other
functionality will be available.

6. You can now map the usable area by selecting

, flash the usable area

, as well as download a KMZ of the project area

.
This is an example of a completed AOI project. The user can now continue to configure siting criteria or begin selecting parcels on the project sites tab with the "Add Site" button.

See Add Sites Manually for more information.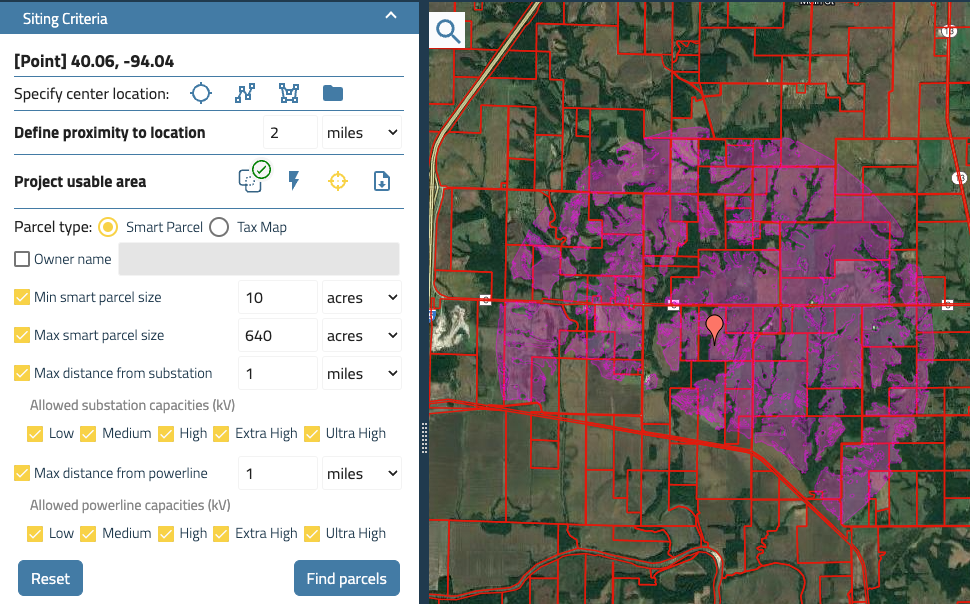 Next step, Review Search Results and Identify Project Sites.