If you would like to manually add sites to your Siting project, upload a file or click to add a parcel on the map.
Upload sites
To upload a site,
1. On the siting criteria panel, click on the file folder upload icon

"Or jump to your uploaded sites"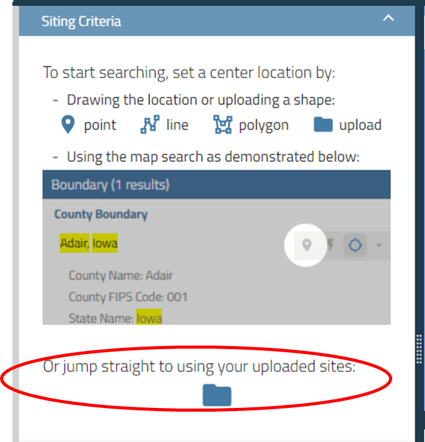 2. Upload your KMZ/KML file*
*Note: your file can only have one layer
Click to add site
To add a site to a project,
1. Navigate to the Project Sites tab. The Project Sites panel will automatically appear after running a site search.
2. Locate the Add Site button.
This button is located at the top left of the Project Sites tab and to the right of the deliverables.
2. To choose the type of parcel you want to add, select the drop down to the right of the plus symbol and select Smart Parcel or Tax Map Parcel.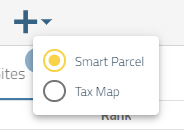 3. After making the selection of parcel type, you may now start selecting parcels on the map to add to your project by placing a left click on the desired site. Once selected, the record will add to your project sites and you can now calculate usable area for the new site.
If you add new sites after deliverables have been generated, you will need to regenerate the data package, reports and the contact list for the most up to date information.