Learn how Pivvot Siting's powerful search engine enables you to locate prospective sites based on specific criteria. Start with a center location and configure your siting criteria to find sites of interest.
Pivvot Siting has a powerful and versatile search engine that will help you locate prospective sites. For any Siting project a Center Location must be identified. A Center Location, or starting location, defines the feature or location on the map from which you will begin your search. This could include searching within a county or within proximity of existing powerlines and substations.
This article covers the following topics:
Choose Center Location

Configure

Siting Criteria



Choose a Center Location
Before you can locate prospective sites you'll need to identify a location from which to begin your search. You can choose from from Pivvot features or manually define your Center Location.
Below is a list of possible Center Locations:
Pivvot Layers

County
Substation(s)
Powerlines

User Defined Location

Drop a point on the map
Draw a line on the map
Draw a polygon on the map
Upload a KML/KMZ file
Pivvot Layers
There are two ways to find the county, substation(s), or powerline you'd like to use as a Center Location.
Map Search
Click to Search
Map Search
To locate a county, substation(s), or powerline by Map search:
Click the Map Search icon next to the Siting Criteria search panel

Verify Center Locations option is checked

Type search criteria (i.e. Brunswick County)
Click the magnifying glass or select Enter to run search
The Search Panel will display your results.
NOTE: Selecting "Center Locations," in the search panel will filter to layers that can be used as a center location. By selecting the "Pivvot Search," search results will also display information for other Pivvot layers.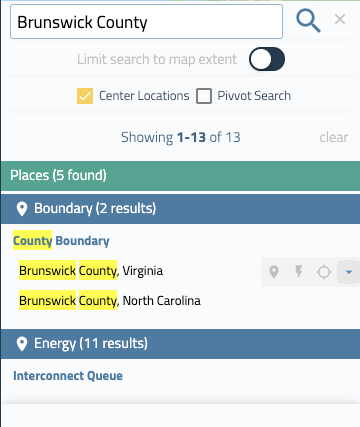 NOTE: The green section will display Google Places to what you see in Google Maps. This means you can search for a common place or street address. You can also search for a lat/long coordinate.
Click to Search
1. Click on an energy infrastructure feature on the map such as an existing substation or powerline
2. Select the Center Location icon next to the substation name in the search panel

3. To add a second substation to your search, click on a substation on the map. In the search results panel, click the plus/minus icon next to the substation to add it to your center locations.

Note: The ability to prospect around multiple features is limited to substations found in the Pivvot Substation layer.
User Defined Location
1. Choose a point, line, polygon as your center location. Or, upload a KML/KMZ file.

Configure Siting Criteria
Once you sent your center location, you need to configure your siting criteria in the siting search panel. To configure your siting criteria consider the variables you are interested in when looking for a site.
Below are some examples of criteria settings for different scenarios.
When choosing parcel type, you have the choice of Smart Parcel or Tax Map. Smart Parcels are a curated dataset from Pivvot that is an aggregated tax map based on land owner opportunity. Tax map parcels are the parcels that are accessible through the county.
Note: there are many ways to locate sites. The following examples are to get you started.
Locate a site from one to 20 acres in size, within Lincoln County, Oklahoma, near a substation.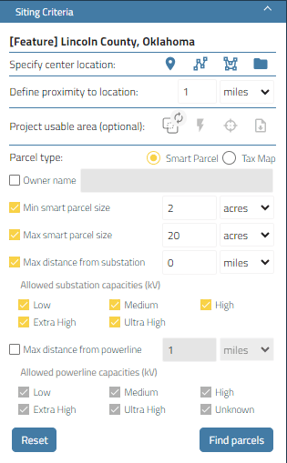 Locate a site that is at least 100 acres, near power lines.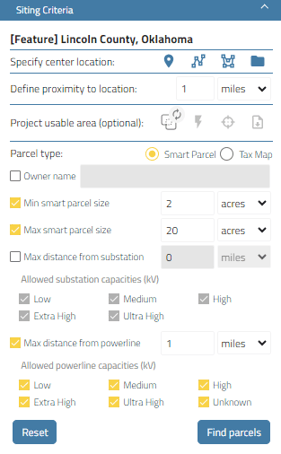 Locate a site that is at least 150 acres, within two miles of a substation.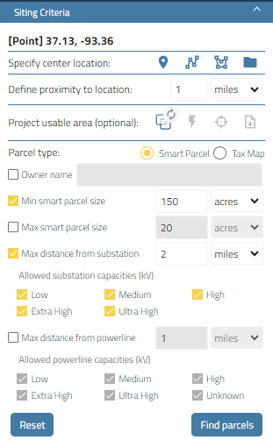 Locate a site of at least 5 acres within two miles of a specific power line.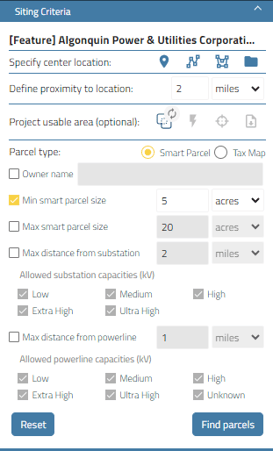 Find sites of 100 acres or more around a specific point on the map close to high KV (70KV) and above powerlines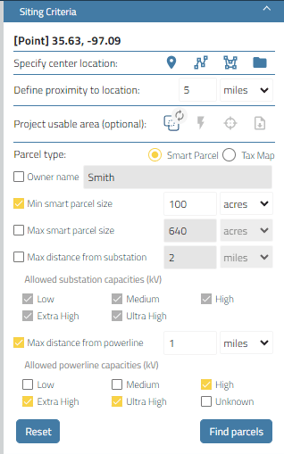 Locate all sites in a county based on owner name.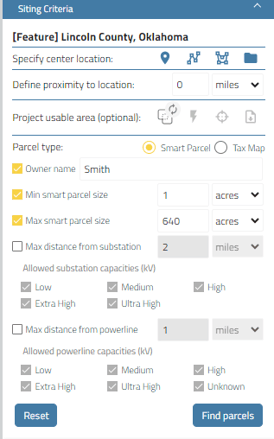 Find sites near a specific substation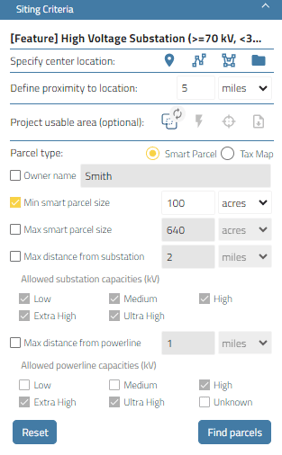 Once all variables are chosen, select Find Parcels.
You can edit and run your search again once you get your results.